| | Aviazione Leggera On Line Il grande sito dell'aviazione sportiva italiana |
| --- | --- |
I - BAGA by Emilio Baietta
---
I've always dreamt to fly and I've had a passion for airplanes since childhood. I began taking flying seriously at the age of 18 when I signed up for an ultralight flying course. Yet, flying wasn't enough; I also wanted to build my own aircraft with my very own hands, and not only for economic reasons. It is true that building your own plane will save you a lot of money, but I believe it also makes for a complete pilot. Knowing how an airplane is actually built and how it must be maintained efficiently is an invaluable asset, which also translates in increased safety. Let's proceed in order, though.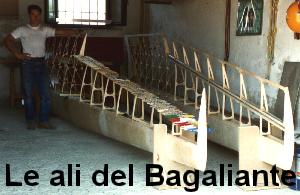 In 1986, at the age of 21, I bought plans for the "Colombo" from Mr. Bagalini, the designer and an aeronautical engineer; the Colombo is a two-seat ultralight built almost entirely out of wood. I liked the philosophy behind the project itself: a real ultralight (only 150 kg in empty weight) designed to fly slowly, with low power, taking off and landing from incredibly short fields, all of which, in my opinion, is the real essence of ultralight flying. I also liked the way the Colombo could be easily dismantled and stored in any garage, and the large wing with a thick and efficient airfoil. Not to be underestimated was the fact that I live in the province surrounding Milan, not too far from Mr. Bagalini's home, which represented a distinct advantage. As far as the wood construction is concerned, I relied upon the help of a friend carpenter, Gilberto Bezzo, an ultralight pilot as well, with a lot of experience and equipment (particularly with a good supply of wood clamps...you have no idea of how many of those things you need...).
The building process started with some driving around looking for materials (Bagalini supplies a list of recommended suppliers together with the plans). The Colombo requires mainly beech plywood and basswood strips. The latter must be picked carefully and must be well seasoned, if you don't want any nasty surprises such as increased weight or warping. In practice, you can say that wood can be worked without any experience, although a lot of experience is required for proper selection. One thing about basswood: woodworms love it, so make sure you treat it with the proper compounds. Traditionally, homebuilt aircraft start with the wing ribs (although you can start from any which point you like), which are always built using a simple jig. I used is UHU Plus two-component epoxy glue with a drying time of 24 hours, which means you can't build more than one rib a day. The ribs, light and easy to handle, gave me a chance to get comfortable with woodworking and then move on more confidently to building the box-type longeron, by far one on the pieces which requires the most clamps. It is not too difficult to build the longeron, considering that it is tapered and has a certain amou nt of twist. I had more problems with gluing the very thin plywood covering the leading edge. This forms a box-type "D" section with the longeron itself and it is a very important structural element. The main problem is that this kind of work requires at least three hands. Gilberto's help was again invaluable.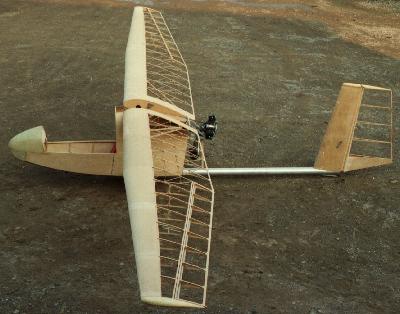 The last part is the covering of the airframe, which is not too difficult if one plans his/her work carefully. I'd like to point out that I had Mr. Bagalini check the wing structure before covering it. For space reasons, I first built one wing, then the other and finally the fuselage. The fuselage is the element that gives the airplane its familiar look. It is in this phase, as all builders know, that work slows down as it is time to sit in the cockpit and dream a little while fitting all the components to suit the pilot's size. Of course, during construction there were times when I felt tired if not discouraged. In these cases the help of my friends was invaluable, just lik e the several visits paid to me by Mr. Bagalini who was always a source of precious advice. Seeing the completed aircraft was an all time high. In the latter part of the construction process, I practically spent all my time in the workshop, as the detail work - systems, finishing touches - requires much more time than one may think. Painting was the final step and a very important one, since the look of the plane depends largely from it. It is best to work patiently without exaggerating with the paint coats, especially in machines like the Colombo where you try to keep the weight as low as possible. Thanks to the low weight of the Colombo, I managed to balance it in true model building style by resting it on the fuselage part directly below its centre of gravity. Very empirical but practical (and you avoid making mistakes in your calculations). Besides supervising the final assembly phase, Mr. Bagalini also took the first flight in my Colombo; I really appreciated his trust in my work. It was March 22, 1989, and everything went in the be st of ways.
I cannot describe that day, but I'll never forget it. I remember clearly the apprehension I had, before take off, and my immense satisfaction in seeing by creature lift up in the air in perfect safety. I cried for joy, I swear. Result: 1.500 hours invested and a chance to learn how to do just about everything: carpenter, blacksmith, turner, mechanic, upholsterer, electrician and painter. And, most of all, it is the best way to really learn about airplanes and how to keep them in top shape, and to respect them.

THE BAGALIANTE (BAGALINI SAILPLANE)
Home builders belong to two groups: those who get discouraged and give up, and those who complete the construction of their planes. And of those who get to fly on their own aircraft, many go through it again (and for some others, homebuilding becomes a way of life). Much of it is due to the indescribable satisfaction one has in seeing something built with his/her own bare hands take to the skies. But it is also due to the simple fact that a large portion of the time involved in the construction of the first homebuilt is needed to learn all the secrets, after which things get a lot easier. In any case, Gilberto Bezzo and I decided to go at it again. This time around we were to build two identical machines. We chose the new Bagaliante. First of all, because we were satisfied with Mr. Bagalini's assistance, and secondly because the Bagaliante is one of the most economical machine ever, and lastly because its construction is a little more sophisticated than the Colombo, with a tapered and twisted wing and a concave-convex airfoil. A lot of the things said about the construction of the Colombo hold true for the Bagaliante and therefore I will just talk about the differences in the building process. The wing is built in its entirety, as if without ailerons; these are then cut out and boxed in separately. The wing does not rest on an aluminum structure but is connected directly to the top of the fuselage, whose rear part, although, consists of an aluminum tube. The wing has a concave portion on the underside of the wing in which the covering needs to be stitched to the ribs: a little tedious but certainly not difficult.

I took a lot of care in finishing up the plane in order to get the best glide ratio possible. The engine I chose was a Koenig 430 SC, a two-stroke three cylinder radial engine, with direct drive, that is with no reduction unit. The Koenig has 24 HP (more than enough for the Bagaliante, which is designed for the Rotax 277), weighs only 16 kg complete with muffler and electric start, it is very quiet and has very low vibrations. I built the propeller myself using a design by Mr. Bagalini. The plane required a little bit of weight in the tail to balance out properly, so I decided to install a bigger tail wheel: at least the extra weight had some use to it. I finished the Bagaliante in June of '92. Bagalini made the final inspection, although this time I did the initial flight. After the usual testing procedure s, taxing at increasing speeds, I finally did the real take off on June 21. The power of the Koenig was very evident: the Bagaliante took off in no more than a few metres and climbed up at an incredible 5 metres per second (1000 feet/min). With its low flying speed, it seemed as though I was climbing vertically, like a homesick angel. My friend Gilberto successfully flew the Bagaliante a few days later.
CONCLUSION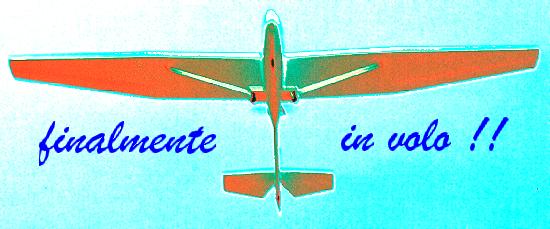 Homebuilding has a lot of negative sides to it. There are tedious moments during which you feel like your not progressing one bit. Then there's a tendency to become completely involved in the building process, forgetting about everything else. All builders have some sort of problem with spouses or companions. In my case, I actually split up with my girlfriend...who knows, perhaps I was saved from an unsuccessful marriage. In any case, building airplanes is now part of my life. My family has a farm where I managed to prepare a beautiful 600 metre grass strip, on which we set up a flying club and school. The field is called "Cielo Blu" (Blue Sky). I take care of maintenance for ultralights and assemble them, even on commission for others. Has my hobby become my job? Not quite. Assembling kits is not exactly the best way to make money (try it and you'll find out: mark down all the hours and then do some calculations!), rather it is a good way to build without spending money while com plementing your regular job. And the best thing is not doing the work completely but helping another builder, giving him or her the best advice your experience dictates.
Those who wish to get in touch with me, may do so by calling +39.02.90848854,
or writing to:Cascina La Rota, 20088, Rosate (MI).
P.S. The Bagaliante is for sale!

---